Waiting on Wednesday is a weekly meme hosted by Breaking the Spine to highlight upcoming releases we're excited about.
*Hi Everyone! This week I have just discovered this GORGEOUS new book that is set to be released in September of 2016. I was drawn in by the cover but stuck around after reading this amazing synopsis!*
Title: A Shadow Bright and Burning
Author: Jessica Cluess
Release Date: September 20, 2016
Publisher: Random House BFYR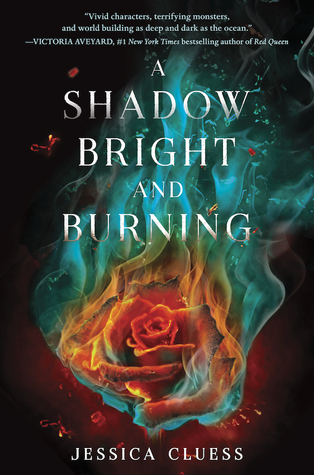 "Henrietta Howel can burst into flames.
Forced to reveal her power to save a friend, she's shocked when instead of being executed, she's invited to train as one of Her Majesty's royal sorcerers.

Thrust into the glamour of Victorian London, Henrietta is declared the chosen one, the girl who will defeat the Ancients, bloodthirsty demons terrorizing humanity. She also meets her fellow sorcerer trainees, handsome young men eager to test her power and her heart. One will challenge her. One will fight for her. One will betray her.

But Henrietta Howel is not the chosen one.
As she plays a dangerous game of deception, she discovers that the sorcerers have their own secrets to protect. With battle looming, what does it mean to not be the one? And how much will she risk to save the city--and the one she loves?"
This book is definitely making me wish that it was already September! Summer? Who needs it. I just want this beautiful book in my hands and safely on my bookshelf. I am so intrigued by the plot for this story and I just want to know why everyone thinks she is the chosen one, how she knows that she isn't, what are all the secrets everyone is hiding, and who this mysterious loved one is! Am I really asking that much here?
What are you waiting on this week?