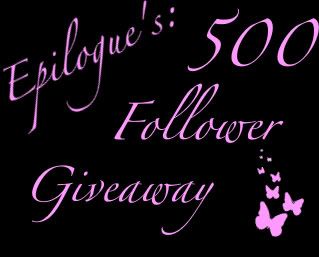 I. Am. Stunned. Seriously, you guys have blown my mind. I have hit the 500 follower mark and it is all thanks to you awesome people!! =) When I started this blog I didn't think anyone would read it besides a few close, loyal friends... and my mom. You have all jumped up, showed support, and followed, which means so much to me! I love seeing you all get involved in my posts and reviews because, well, your opinions matter to me.
To thank you for being awesome I have prepared a little giveaway for you. This is an extra special event because I will be having TWO giveaways. One open for US only and one open Internationally (As long as The Book Depository ships to you). The giveaways are as follows:
International: One winner will receive any book of their choice (up to $15) from The Book Depository. To Qualify you must be eligible for their free shipping! If you don't know if that applies to you look here.
US Only: One winner will receive a signed, hardback copy of Tempest by Julie Cross
Since this IS a FOLLOWER love giveaway you HAVE to be a follower to join. All other entries are optional you can do as much, or as little as you want! Make sure you come back because you can tweet and comment on a review once per day!!
Sound fun? Good.
Blog Button:
a Rafflecopter giveaway
United States ONLY giveaway:
a Rafflecopter giveaway
So stay tuned to Epilogue for reviews of your favorite young adult books... and who knows? The 700 hundredth follower giveaway may be just around the corner!!