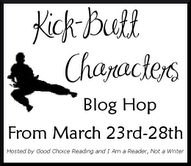 The Kick-Butt Character Giveaway Hop was set up to introduce readers (You) to amazing books with some really fantastic characters. When I first heard of this giveaway hop I was intrigued, I LOVE kick-buttness in books... especially in a female heroine. So did I have a book in mind as the prize? You know I did. My choice, Bound by C.K. Bryant, is a YA paranormal/supernatural fiction story. Basically it's awesome. The main character Kira is fantastic. Personally I think the three main characters: Kira, Lydia, and Lydia's brother Octavian are ALL Kick-butt. So thanks to C.K. Bryant's generosity my prize for this giveaway will be a SIGNED, PERSONALIZED copy of Bound! If you want to know more about Bound read my review below.


My Review
Title: BOUND (#1 in THE CRYSTOR Series)
Author: C.K. Bryant


Book summary:
"When a photo shoot ends in tragedy, Kira discovers her best friend, Lydia, has been keeping a secret. Knowing the truth, and accepting it, will change Kira's life forever and thrust her into a world of ancient curses, magical objects, and savage enemies. What happens next will challenge everything Kira knows about her world, herself and the shape-shifting warrior she's falling in love with. No longer the timid mouse her mother accused her of being, but a woman who finds the mental and physical strength to endure and survive.
BOUND is a heroic tale of true friendship, infinite sacrifice and untamed love."
The first thing that struck me about this book is its depth. The characters themselves are very deep… they have layers. I would just start to feel like I knew the characters when SURPRISE they would do something I didn't expected. Take Kira for example; she loves her best friend Lydia like a sister, has an awful home life, and suddenly learns a secret that will change her life forever. No pressure. The way her character handles everything is, to me, remarkable. She will do anything to help her friend but she doesn't just blindly jump into things. She thinks about the best move to make, and doesn't let a pesky warrior bully her into submission. One thing that stood out for me about Kira is that she doesn't have a perfect home life as many main characters do. She actually has to deal with several emotional things that make you want to step in and hug her.
This book is full of page-turning anticipation that, coupled with the amazing plotline, gives you a story you should not miss. This book is full of action, love, self-discovery, the tests of friendship, and having faith in those closest to you. A must read for all paranormal romance lovers!
The cover of this book is exquisite. The girl on the cover perfectly matches my image of Kira, the intensity in her gaze matches up exactly with her attitude. This book would be a great gift, especially if the receiver appreciates a well-written story that has a beautiful cover to match.
I give this book 4.5 hearts; Very Highly Recommended!
I hope that convinced you to enter... because we both know you're hooked. Besides who wouldn't want that cover on display! ;)
Also check out my interview with C.K. Bryant here.
This giveaway will have THREE winners
First place winner: 1 (one) Signed, Personalized copy of Bound AND 4 (four) Signed bookmarks
Two runners up will each receive: 2 (two) Signed bookmarks
a Rafflecopter giveaway
Continue with the hop here: