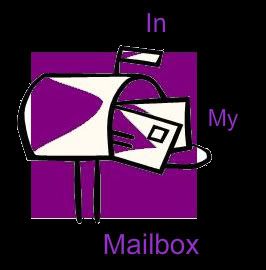 In my mailbox is a meme hosted by Kristi at the
Story Siren
This meme allows bloggers to hop from one blog to another and see what others are reading. It is also a way to showcase the books in a "spotlight of fame" since it might be a while before the review is ready! I have lots of goodies to show you from the last two weeks so here we go (I'm sorry if I forget anyone):
Review:
The Hunt
here
.
Bought:
Gifted/ Borrowed
Kristin
@GrowingUpYA
offered to lend me her copy of
Jellicoe Road
by Melina Marchetta (because she's wonderful). When it arrived I found out she went ahead and bought me my own copy so I would have one. She is too sweet!! :) Go stop over to her blog and say hi for me!!
My buddy Heather
@TheFlyleafReview
recently won a huge box of ARCs in a giveaway. When she found out I was jumping up and down to read one of them she offered to lend it to me in exchange for book one in another series she needed to read. (I said yes, DUH!!) What was the book I couldn't wait for you ask?
Dreamless
!!
I got her package today and I found that Heather had included ANOTHER book for me to read. She had seen it on my Goodreads list and decided to surprise me with it. So I also got
Hourglass
from her to read! Thanks so much for the wonderful surprise Heather, you are awesome!!
So, that was my mailbox... what did YOU get this week?? Let me know and leave a link in the comments :)
While you're here don't forget to enter all my fantastic international giveaways listed up on the top left. Included there is a chance to win and book of your choice up to $15 (I have two of those going
) and a chance to win a signed copy of Tempest by Julie Cross (US only)