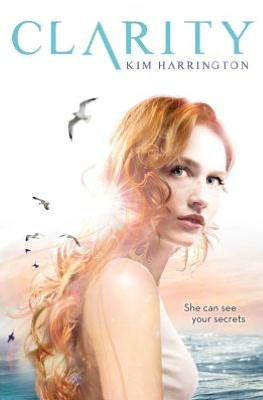 Title: Clarity
"Don't close your eyes. Except when the truth is too dark to bear.
Clarity "Clare" Fern sees things. Things no one else can see. Things like stolen kisses and long-buried secrets. All she has to do is touch a certain object, and the visions come to her. It's a gift.
When a teenage girl is found murdered, Clare's ex-boyfriend wants her to help solve the case -- but Clare is still furious at the cheating jerk. Then Clare's brother -- who has supernatural gifts of his own -- becomes the prime suspect, and Clare can no longer look away. Teaming up with Gabriel, the smoldering son of the new detective, Clare must venture into the depths of fear, revenge, and lust in order to track the killer. But will her sight fail her just when she needs it most?"
If I could see glimpses of the past, believe me when I say that I would be working with the new detective's smoldering son to solve a murder case! Clarity Fern has always had a very indifferent out look on her "gift". But, when the chance to solve a murder and save her brother arises, she will do everything in her power to prove he is innocent. Teaming up with her ex-boyfriend is not high up on her list of things to do. However, the chance to clear her brother's name and to work with the smoking hot son of the new detective proves to be an irresistible combination!
What first strikes me while reading Clarity is how quickly I am introduced to Clare. Almost immediately I KNOW her. She acts tough and uses her words to push others away, but deep down she's just a little girl who wants to feel safe and loved. Her big brother (Perry) is her world. She even lies for him. In fact, I can't think of anything she wouldn't do for him. He is her rock. A huge part of this book is about understanding the relationship between Clare and Perry. Without grasping this relationship, decisions they both make would be impossible to comprehend. I definitely sense Clare's family loyalty from the fact that, while she can forgive her brother almost anything, no one else better even think about crossing her.
Clare obviously has a complicated history before I am introduced to her. I can tell she has an estranged relationship with Justin, her ex., but I don't know exactly what happened. I think Harrington weaves in the background information very well. She doesn't just start off the book with a 15 page preface that details what happened BM (Before Murder) but, by the end of the story, I understand Clare's past. This book does have a love triangle and, unlike the last few stories I have read with these, it pulls it off well. I really dislike when an author writes a love triangle where one of the two guys NEVER has a chance. This situation isn't like that; I STILL don't know whom she's going to choose!
I love how this book is written. It is a quick read, but I don't feel like the story line is rushed at all. Yes, it ends with some unanswered questions, but it doesn't stop on a complete cliffhanger! Clarity captures and holds my attention. This book is amazing, and I cannot wait to see where the second book takes Clare!
This cover is so beautiful! I don't know if the image shows just how intricate the design work is, but if not: ZOOM IN. Her hair has some very strategically placed swirls that double as waves in her hair. With the ocean and seagulls in the background and the sun directly behind her, the backdrop for the girl is breathtaking. Add in a set of piercing eyes, that I believe can see my secrets, and we have a fantastic paranormal/ fantasy cover
I give Clarity 5 out of 5 hearts: I LOVED it!
* I cannot wait for the sequel. Perception looks amazing!
You can purchase clarity here: