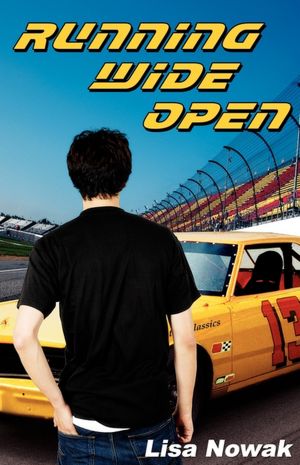 Title: Running Wide Open
"Cody Everett has a temper as hot as the flashpoint of racing fuel, and it's landed him at his uncle's trailer, a last-chance home before military school. But how can he take the guy seriously when he calls himself Race, eats Twinkies for breakfast, and pals around with rednecks who drive in circles every Saturday night? What Cody doesn't expect is for the arrangement to work. Or for Race to become the friend and mentor he's been looking for all his life. But just as Cody begins to settle in and get a handle on his supercharged temper, a crisis sends his life spinning out of control. Everything he's come to care about is threatened, and he has to choose between falling back on his old, familiar anger or stepping up to prove his loyalty to the only person he's ever dared to trust."
No one said being a teen is easy. Cody Everett is that one punk everyone remembers from high school as "trouble". That kid who sneaks out for a smoke, graffities buildings, and says things just to watch people squirm. Would you take him in after the police pull him over, again? I don't know if I would, yet that's exactly what his uncle Race does. After testing his uncle, multiple times, Cody begins to realize that maybe Race does care, and he starts to let down his guard. Then tragedy strikes, and Cody is left wondering why he ever bothers and thinking it might be time to just give up for good…
This book is an emotional rollercoaster. I start out thinking Cody is just some disrespectful punk who has some major anger issues, but now I am happy to say I was totally and completely wrong. Cody has baggage, sure, most of us do, and past experience definitely accounts for his trust issues. At the beginning of Running Wide Open, I want to smack Cody every time he's rude or belittling to Race, but the more I read, I realize that it's his defense mechanism kicking in. Then, I (im)patiently wait in anticipation for that moment when he will cave in and completely trust Race.
Typically, I love books that have romance in them; they appeal to me as a teen and connect me to the story. Running Wide Open doesn't have any major romance. Actually, with Cody there is NONE. Truthfully though: I don't even notice. This book catches and holds my attention so well that I'm not even worrying about when or if a girl will come into Cody's life, I just want to see if he will unintentionally drink rotten milk again. Yeah, you read that right.
Running Wide Open
is a MAJOR character-building book, and it ties me to the characters: all of them. Normally, I feel a connection to the main character, but here I feel connected to not only Cody, but also to Race, and even to Cody's dad! I really feel like I am a part of the family and completely, emotionally connected to the story. I will admit that I cried. Twice. Yes, it is that moving. Yes, it is that touching. Yes, you should read it.
This cover has many bright colors that all work well together to make this image interesting. The car, the stadium, the guy, all of these elements perfectly fit into this story. Personally, I really want to reach into the cover and force the guy (Cody) to turn around so I can see what he looks like!
*I cannot wait to read Book II: Getting Sideways, it looks AMAZING!!*
I give Running Wide Open 4.5 out of 5 hearts: Very Highly Recommended!!
Check out more on Lisa at her website here: http://lisanowak.wordpress.com/
You can buy Running Wide Open here:


or here: Barnes and Noble