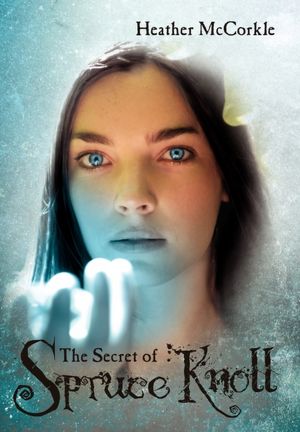 Title: The Secret of Spruce Knoll
"Following the death of her parents, Eren Donovan moves to Spruce Knoll to live with an aunt she's never met. Little does Eren know, the entire population are channelers—magical people who immigrated there when they were driven out of their homelands.
Channelers are tied to the fate of the world, and as it slowly dies, they are going extinct—and they alone have the power to save the earth. Soon, Eren learns she not only lives among them, but she is one. When she meets local boy Aiden, his charm convinces her that being a channeler may not be all bad though.
As Eren and Aiden's relationship develops, so too does a mystery in Spruce Knoll. The town holds many secrets—and many dangers. It soon becomes apparent that the untimely death of Eren's parents was no accident and that her life might be in danger too. Only time will tell if Eren can embrace her unwanted power and protect the only family she has left."
If I lost my parents suddenly, in a wild animal attack, I sure would learn how to keep my distance. I mean, I would have just experienced someone I love being ripped away. Well, that is exactly how Eren feels as she goes to live with her aunt in Spruce Knoll. But after running into Aiden, an attractive boy with whom she forms a fast friendship, she realizes that forming attachments again might not be so bad. However, with her aunt and newfound "friend" acting so strange, Eren quickly realizes that here in Spruce Knoll all is not as it seems.
This book is downright magical… no, really. A huge portion of this book is about magical powers and abilities. Many of the struggles Eren faces have to do with coming into and developing her own powers, but magically is only one of the ways Eren changes in Spruce Knoll. I really love Eren's growing connection to her newly-discovered family. They have a very laid-back relationship that is easy to envy. One of the things that I truly admire about The Secret of Spruce Knoll is that if I take out all the magical parts (not that I would ever want to), McKorkle still delivers a good story. The characters' development, as individuals, families, friends, etc., is wonderfully done, and it really ties me emotionally to the characters.
One thing that stands out to me is that this book is well balanced. While her aunt and grandfather accept her, and they all get along seamlessly, the rest of the town is bitter and discriminatory. Eren's new life in Spruce Knoll isn't all roses and kittens and, for me, that makes this story more realistic and much more enjoyable. McCorkle also did a great job maintaining consistency within The Secret of Spruce Knoll. For example, the channelers are supposed to be tied to the earth so, when they go into the city, Eren starts to feel sick. Little details like this, which could easily have been overlooked, are worked into the story. Eren and Aidens relationship is a thing to behold and I cannot wait for book two!
At the time of this review, there are two different covers for The Secret of Spruce Knoll. The picture at the top of this page is the cover on my copy of the book, so I'll talk about it first. I love this cover. A lot. This shade of blue is beautiful, and it really contrasts well with her skin. The green leaves on the upper right side of her face give the impression that Eren is in the forest and her glowing hand suggests she is practicing magic. One thing I find very intriguing, but it's probably unintentional, is the glow coming from her hand. Looking carefully, the glow makes the letter "M", and Heather McCorkle's last name starts with an "M". I think this is a really cool, probably unintentional, symbol.
There is also a newer cover for The Secret of Spruce Knoll. This cover (pictured on the lower right) is for a very special purpose. Here is what Heather McCorkle's website has to say about it…
"This is a special edition that contains an extra chapter and deleted material not published in the Abbott Press version. But what makes this version special is that a percentage of the proceeds from every copy of the special edition sold~digital and bound book~will go to my favorite charity that specializes in protecting endangered species. I hope you'll join me in trying to raise $10,000 for the charity by December 12th of 2012 by ordering a copy of the special edition for yourself or your loved ones. You can pre-order a signed copy now by clicking on the 'buy link' on the left sidebar. We can make a difference."
I think that the new cover, charity donation, and EXTRA CHAPTER incentive are all wonderful ideas, and I hope they raise the $10,000! I will be checking in throughout the year and keeping you posted on how much money has been raised.
You can purchase The Secret of Spruce Knoll at any of these links:
I give this book 4.5 out of 5 hearts: Very Highly Recommended