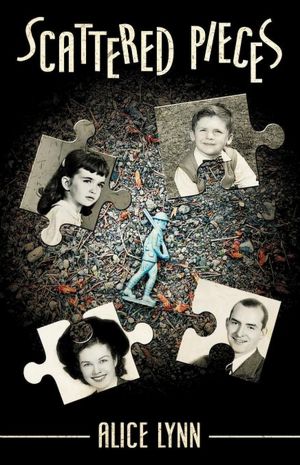 Title: Scattered Pieces
"When Katie's little brother is snatched in 1946 it tears her family apart. It's only through Katie's friendship with the irrepressible Marilyn, and Marilyn's handsome brother Tom, that she navigates a lonely childhood. In college, studying psychology helps Katie understand her mother's deteriorating mental state and her own fears. It also leads to a client who may hold clues to the mystery of her brother's disappearance."
Sure, my brother and I don't always get along, but that doesn't mean I want him kidnapped! Katie is forced to grow up FAST when her younger brother is snatched, right from her grasp, at a crowded train station. Her family starts to deteriorate as each member deals with his or her grief in their own way. Katie learns to open up to those closest to her and slowly voices her fears about that day: that it was all her fault. With her friends beside her, Katie comes to terms with the events of that terrible day and starts to move on…
This book is technically considered Women's Adult Fiction but, since a HUGE part of the book deals with Katie growing up and her challenges in high school, I decided to give it a whirl. Honestly, it is one of my better decisions. Scattered Pieces is wonderful! The writing is descriptive, alluring, and haunting. When little Jimmy goes missing, I can FEEL the panic and the terror that overwhelms Katie. The despair that envelops her family is like a cloud, thick and tangible. Throughout Scattered Pieces, I see Katie and her best friend Marilyn grow and change. Katie chooses a career in psychology, while Marilyn chases dreams of acting and modeling. Lynn has a way of letting me see the world and events from Katie's perspective.
I think Alice Lynn's background really adds to Scattered Pieces -- she has a degree in psychology. What does this mean? It means that she actually knows what she's talking about. I feel this adds greatly to Scattered Pieces because Lynn doesn't just say Katie's mom is sinking into depression, she shows the mental and physical symptoms as well.
The only thing I don't like about this book is its sad subject matter. A little boy being kidnapped is sad. No way around it. That said, the rest of the book is about how Katie and her family deal with the tragedy and how they let it change them. This heart-wrenching book is very realistic and definitely connects me emotionally to the characters!
Puzzle pieces. Those little things are known for getting lost under couches and mysteriously disappearing, leaving the puzzle incomplete. How fitting, then, that the puzzle pieces with Katie's family members on them don't fit together. They are separated. This cover is a wonderful choice for Scattered Pieces!
*This book does have a couple mildly inappropriate sexual scenes but they are easy to avoid.
I give this book 5 out of 5 hearts: I LOVED IT!!